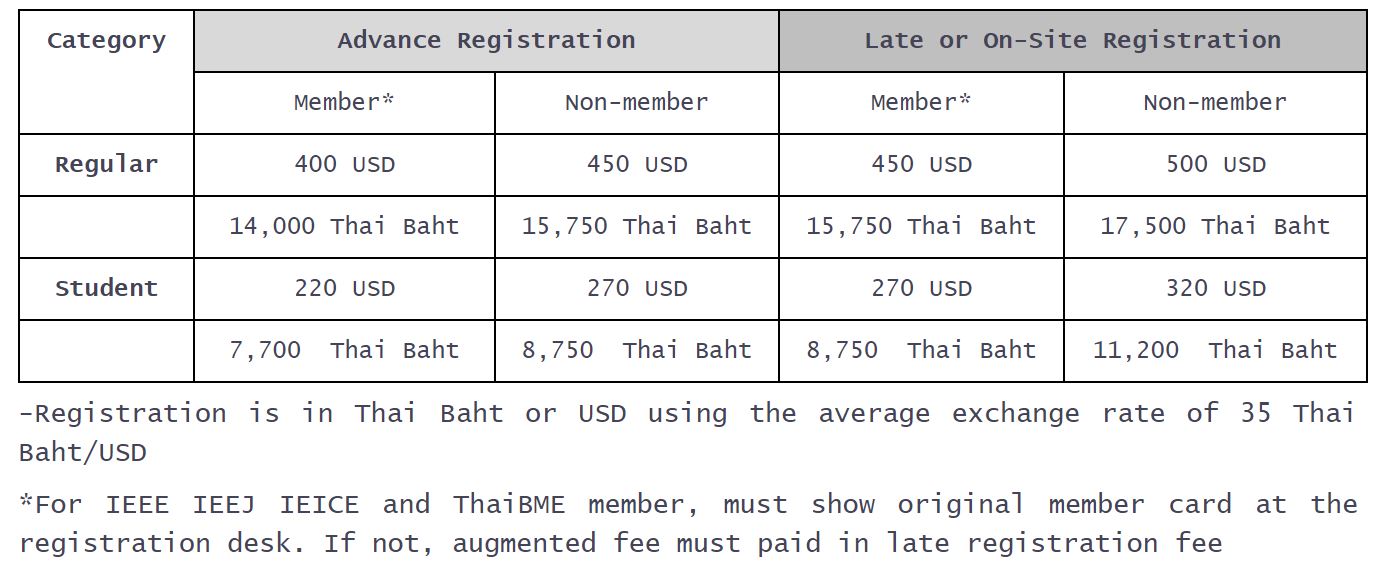 * Author attending  BMEiCON2017 received one-year membership.
Note 1: In principle, one registration covers only one paper. At least one of the authors must make an advanced registration by the final camera-ready paper submission deadline (October 15, 2018) in order for their paper to be included in the final program of the conference.
** Late or On-site Registration for conference participants applies after October 15, 2018. All of the conference participants should complete the registration.
Note 2: Additional accepted papers whose first author is a full-time student (a student who enrolled for degrees or diplomas with university or academic institution) may be eligible for the Student registration rates if there is at least one accepted paper already registered as Regular by the same group of authors or advisor. The Student registration is limited up to two registered papers for one Regular registration.

The deduction from the Regular registration fees will be available at the registration desk at the conference once the student status is approved
*** Student status must attach official student ID card upon registration and present ID at the conference registration desk. The Student registration fee covers only the conference materials, banquet, breaks and access to all sessions.
Additional Fees
• The conference fee for non-authors (Listener) is USD 150 (5,250 Thai Baht). This fee covers only the conference materials, banquet, and access to all sessions (except RNE).
• Banquet ticket only costs 50 USD.
  Note again that BMEiCON 2018 Registration rule is
"one paper one regular"
If author submits only one paper, that paper must be registered as full registration
Student registration is applied when more than one paper is submitted but less than three (from the same group). Then the second and third can then be registered as student
To register for BMEiCON 2018,
Click here for registration form.
To ensure that your paper will be included in the final program, after  registration, please send this form and Bank slip to This email address is being protected from spambots. You need JavaScript enabled to view it.