Prof. Supan Tungjitkusolmun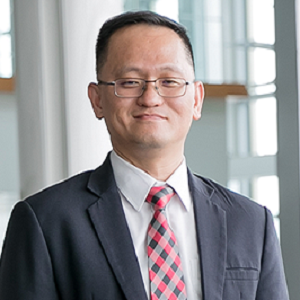 Title:
Advancements Artificial Intelligence in Biomedical Engineering
Abstract:
Advancements in Artificial Intelligence (AI) in recent years have greatly impacted biomedical engineering advancements. With fast internet, powerful hardware, small sensors (internet of things), and small and low-cost storage, we can now overcome previous limitations to take full advantage of AI to assist us in solving various biomedical engineering problems.
CMKL University is a partnership between Carnegie Mellon University and King Mongkut's Institute of Technology Ladkrabang. In 2020, we were supported by the Thailand's PMUC (Program Management Unit Competitiveness) to establish an advanced AI Infrastructure called "APEX" (30 petaflop, 3 petaflop of storage). Over the past years we have utilized APEX to solve various problems including speech recognition, smart cities, as well as biomedical engineering applications. For example, researchers at KMITL utilized APEX to identify coronavirus mutation by analyzing the genomic sequences. In addition, we are now working on using AI to help assist radiofrequency cardiac ablation technique, a commonly used method to treat arrhythmias such as atrial fibrillation and Wolff-Parkinson-White Syndrome. AI can assist cardiologists in locating optimal ablation sites from analyses of electrical signals measured internally and/or externally. With continued advancements in the coming years, AI will play a pivotal role in future developments in biomedical engineering.
Biography:
Education
- PhD (Electrical Engineering), University of Wisconsin, Madison, USA
- MSEE (Electrical Engineering), University of Wisconsin, Madison, USA
- BSEE (Electrical Engineering), University of Pennsylvania, USA
Experience
- President of CMKL, 2017 - present
- Director of KMIDS, King Mongkut's Institute of Technology Ladkrabang (KMITL), March 2017
- Senior Executive Vice President for Academic Affairs (Provost), King Mongkut's Institute of Technology Ladkrabang (KMITL), May 2015 -2017
- Interim Dean, International Academy of Aviation Industry (IAAI), King Mongkut's Institute of Technology Ladkrabang, August 2016 - February 2017
- Interim Dean, International College Of Medicine, King Mongkut's Institute of Technology Ladkrabang, July 2016
- Associate Dean for Academic Affairs, Faculty of Engineering, King Mongkut's Institute of Technolgy Ladkrabang (2010 - 2014)
- Assistant Director, Computer Research and Services Center, King Mongkut's Institute of Technology Ladkrabang (2003 - 2007)
International Recognition
- Member, Tau Beta Pi, National Engineering Honors Society, USA
- Member, Eta Kappa Nu, National Electrical Engineering Honors Society, USA
- Member, Pi Mu Epsilon, National Mathematics Honors Society, USA
- Representative of Thailand for Annual Meeting of International Federation for Medical and Biological Engineering (IFMBE)
- International Committee Member, IEEE Engineering in Medicine and Biology Society, 2003, Cancun, Mexico
National Recognition
- Top 100 "Ranking of scientists in Thai Institutions according to their GSC profiles" of Webometrics
- Post-Doctoral Research Fellowship, Thailand Research Fund