Prof. Somkiat Wattanasirichaigoon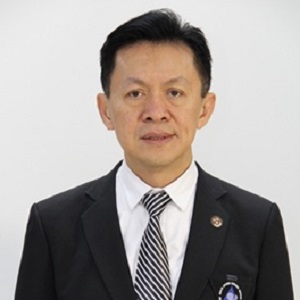 Title:
 COVID-19 Now and Then
Abstract:
SARS-CoV-2 is an RNA virus believed to originate from bats and jump to infect humans.  The first case was found in Wuhan, China at the end of 2019.  The WHO called the disease COVID-19 and declared it a Global pandemic in early 2020. The RNA virus cannot reproduce on its own.  It relies on the host cell. But only one virus infects the host cell by attaching the spike protein to the angiotensin-converting enzyme 2 (ACE2) on the surface of the host cell.  Once inside, the other receptors are destroyed immediately, other viruses can no longer enter the cell.  Intracellular viruses have a protease enzyme that cuts the RNA genetic material into chunks, and then borrows the enzyme within the host cell to replicate the genetic material to rapidly multiply.  Spike protein mutations increase the binding capacity of the ACE2 receptor and allow the spike protein to evade antibody better when it is spreading from multiple strains around the world. The delta variant is naturally chosen to represent other species and covers most of the world for up to two months in each country.  Over time, the coronavirus became stable and being less mutant.  It was expected that the virus had a self-eliminating mechanism of error until there were no more new variants.  
The impact of this global epidemic has caused the health systems of many countries to collapse. Untreated patients with other diseases lead to higher excess mortality worldwide, resulting in lower life expectancy.  Public health interventions including wearing mask, social distancing, hand washing, and lock down have reduced people's interactions. The incidence of sexual transmitted diseases is declining worldwide.  Most of the countries have lower birth rates.  Children born during the pandemic period had have an average IQ of 100 down to 78.  More stay at home led to more healthy food intake but reduced physical activity resulting in weight gain.  Some have mental health problems with a higher suicide rate from unemployment. The economic downturn around the world.  This is the first time that Medical discipline must be integrated into the Economic discipline which is countered in order to find a way to control the epidemic along with economic recovery.
COVID-19 is an emerging disease that no human has ever been infected with, therefore having no immunity.  No one has also been vaccinated before pandemic happened.  Everything is new for physicians and scientists around the world to analyze real world data to find solutions to solve any confronted problems and also to take some other countries' measures.  COVID-19 has disrupted the medical community around the world with a novel body of knowledge; including the production of the first mRNA vaccine, within one year of FDA certification, non-existent herd immunity, and mix-and-match vaccination to achieve higher immunity levels.  All vaccines except the inactivated virus vaccine are immune to all existing variants.  The delta variant currently affects more than 100 countries worldwide and 99% of COVID-19 patients who are hospitalized, or die are unvaccinated.  Public health control measures, a lesson learned from the spread of the Spanish flu, are still the primary preventive measure against the spread of COVID-19 and will continue to be used until now.  This disastrous impact on mankind has pushed us to find better measures to control any new emerging diseases in the future.
Biography:
 Born in 1959, Somkiat and his 9 brothers and sisters grew up in Samut Sakhon, Thailand.  He attended public elementary school and high school at Suankularb College in Bangkok.  In 1977, he decided to enter Ramathibodi Medical School with the dream of being a doctor and a researcher at the same time.
In 1983, he graduated from Mahidol University as a Medical Doctor. During the surgical training at Khon Kaen University, he won the Resident Research Awards with a title of "How a retained surgical sponge migrates into the intestinal lumen".  Impressed by his amazing research, he was appointed as a lecturer in Faculty of Medicine, Srinakharinwirot University.  Willing to be a surgical researcher, Somkiat had completed his research fellowship in Surgical Critical Care at Harvard University during the period of 1997-1999.  Meanwhile he searched for the way to unify the theories of clinical relevance in portal hypertensive patients by signing a letter to Journal of Vascular Surgery.  His research work was recognized by the "Best Surgical Specialty Awards" from Critical Care Medicine 2000.
As a result of his basic scientific research, he became a professor of Surgery in 2001.  During the period of 2007-2010, he was Dean, Faculty of Medicine, Srinakharinwirot University, in 2011, he attended National Defend College and his thesis was also honored as BEST RESEARCH AWARDS 2011,"Driving Strategies for Industrial-oriented Research aimed to compete in the World Market."  In 2014, he was appointed Director, Health Systems Research Institute, Ministry of Public Health.  Since 2015, he has served as Honorary Consultant, National Research Council of Thailand.  At present, he acts as a President of Thai Biomedical Engineering Association.